New medication may have reversed diabetes for young girl
By Bob Cazier
Deseret News staff writer
Sunday, April 02, 2000
Valentine's Day has forever changed for Suzanne McAllister. The gift she received this year eclipsed candy, flowers or anything else she could have imagined. In fact, the number 14 on the calendar has great significance for the Kaysville mother.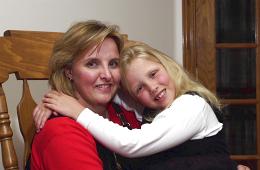 Suzanne McAllister of Kaysville holds daughter Lydia.

Ravell Call, Deseret News
Dec. 14 was one of the worst days of her life. That's when she discovered Lydia, her 8-year-old daughter, had type 1 diabetes.
Jan. 14 is another milestone date — the day Lydia underwent testing in New York City and was accepted for the first clinical study of a genetically altered anti-rejection drug to treat people with diabetes.
And on Feb. 14 she learned Lydia's blood-sugar levels had returned to normal and that her diabetes may have been reversed.
The medicine that helped her may offer new hope for others newly diagnosed with type 1 diabetes. And it's possible that the drug could someday keep people from ever contracting the disease.
Eventually, the medication might help people who have had type 1 diabetes for years. Dr. Kevan Herold, the researcher who conducted the New York study, plans to test the drug with another procedure in which insulin-producing cells are transplanted into the pancreas. The anti-rejection drug might be able to keep diabetics' bodies from attacking and killing the transplanted cells.
Neither Lydia nor her mom had any idea what awaited them when they went Christmas shopping Dec. 14. Things started out fine. But then Lydia needed to go to the bathroom. A few minutes later, she needed to go again.
McAllister, a perinatology nurse at LDS Hospital who works with high-risk pregnancies, suspected something was wrong.
"I thought, 'I've got to get some antibiotics going.' Never did I ever think diabetes. I drove to the Tanner Clinic (in Kaysville) and I said, 'We need to check this girl.' " Doctors found no trace of a bacterial infection. But they sent Lydia to the emergency room at Primary Children's Medical Center after lab tests showed she had a blood-sugar level of 418. "Normal is 95 to 100," her mother said.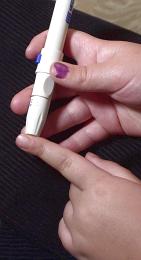 Lydia McAllister tests her blood sugar levels.

Ravell Call, Deseret News
Doctors at Primary Children's confirmed Lydia had type 1 diabetes, and she was hospitalized three days for insulin treatment.
Lydia's parents began reading everything they could find about diabetes. And at 5 a.m. on Dec. 31, unable to sleep, McAllister opened a copy of International Countdown, the Juvenile Diabetes Foundation magazine that had been included in a packet she got at Primary Children's. There she found a short article about the clinical study being conducted by Herold, associate professor of clinical medicine at Columbia University's Naomi Berrie Diabetes Center. Herold reported he had been able to reverse type 1 diabetes in animals by treating them with hOKT3gamma1, the modified anti-rejection drug.
McAllister waited anxiously as the minutes slowly ticked by, hoping to reach Herold as soon as he got to his office. But to her dismay, it was a holiday weekend. All she could do was leave a message on the doctor's answering machine.
"On Monday, Jan. 3, Dr. Herold called me at my office," McAllister said. "He said that Lydia seemed to be a good candidate for the study and that they had five others in the study so far. We began talking and made arrangements. On Jan. 13, we flew to New York."
During the two-week trial at Columbia Presbyterian Hospital, doses of hOKT3gamma1 were administered intravenously. Then 12 of Lydia's vital signs were monitored every half hour for six hours.
Herold first started research with the drug in the mid-1980s with a colleague at the University of Chicago. "This new agent is believed to work by delivering an altered signal to the T cell receptor and specifically inactivating cells that are believed to be involved in the development of type 1 diabetes," Herold reported, adding that genetic alterations made in the anti-rejection drug removed most of its toxicity.
After six days of treatment, Herold told the McAllisters that lab tests showed Lydia's antibodies had been saturated. "That was joyful. That was really exciting," because it indicated the damage to Lydia's beta cells had been halted, the mother said.
Herold cautioned the McAllisters that recovery, if indeed it came, would be slow.
The medication, however, worked very quickly for Lydia. During a Salt Lake checkup on Feb. 14, they found her blood-sugar levels had returned to normal.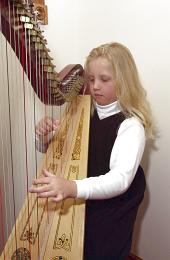 Lydia McAllister practices the harp. A drug may have reversed her diabetes.

Ravell Call, Deseret News
"They did what is called an A1C test. It does an average of blood sugar that's been going on for three months," Suzanne McAllister said. "Lydia's A1C was 5.7. The normal range is 4.7 to 6.4 for non-diabetics. I went to work that day, and Dr. Herold called me. And I said, 'We just got her A1C back and we got a 5.7!' And he said, 'What!' He was just so thrilled."
"I would say that Lydia's response has been characteristic of most of the patients we've seen so far," Herold said of his study. "They seem to do well. Certainly they tolerate the drug well."
Still, he's very cautious about whether hOKT3gamma1 could actually be the means for curing type 1 diabetes.
"I want to make sure people don't misunderstand us. We don't know (that the improvement) is the effect of the drug. This could be the natural history of the disease, which is to have a honeymoon soon after the onset of diabetes. . . . We won't know whether this is a drug effect or just the natural history and we happened to select people who were going to go into the honeymoon. We won't know that for some time yet."
But Herold added, "I'm certainly starting to get impressed, and I know the patients have been impressed that things really do seem to get much better very quickly."
He said other clinical trials of the drug are needed. And it is possible that one of the trials might be done in Salt Lake City, Herold said.
In a separate study, Dr. George Eisenbarth, executive director of the University of Colorado's Barbara Davis Center for Childhood Diabetes in Denver, is developing what he believes will lead to a simple and inexpensive blood test that can detect if a person is likely to get type 1 diabetes. The test looks for one of the key antibodies linked to the disorder. Someday, people found to be at risk for diabetes could be treated with hOKT3gamma1 as an immunization agent.
Since Feb. 14, Lydia's body has been producing normal levels of insulin.
But her ordeal isn't over quite yet. She has her finger pricked three times a day to make sure her blood sugar stays normal. And Herold has encouraged the McAllisters to keep giving Lydia low doses of insulin as a precaution. For the next two years, samples of her blood will be sent monthly to Herold in New York for analysis.
Could Lydia's diabetes come back? "That's something that we don't know for sure," Jim McAllister, an air traffic controller, says. But he and his wife are optimistic. "I think that all of the bad antibodies were saturated and they're gone," Suzanne McAllister said. "Most kids get really really sick and have more (beta cells) destroyed than Lydia. I think because we caught it as quick as we did that we saved a lot of beta cells."